ГдеСлон partner network is one of the biggest partner networks popular among webmasters. But you already know this, if you got to this page. So, in this article, we will pay attention to ГдеСлон WordPress plugin, its functionality, installation, and configuration.
The ГдеСлон Affiliate Network WordPress plugin is a powerful tool for affiliate marketers and retailers. This plugin provides you with the ability to automate product recommendation blocks inside your promotional blog posts. You may configure the category of goods that will be recommended to your readers in a specific article. So, you will never meet a problem with expired promotions or out-of-stock products. At least the partner network is managing this as they can and your promotional articles will generate revenue without additional efforts from your side.
Here is an example of such a block with product recommendations. This one consists only of ГдеСлон promoted products. However, you can mix affiliate product recommendations with blog post recommendations, YouTube videos (with YouTube video recommendations WordPress extension), and products from other networks like eBay (with our eBay WordPress plugin) or Etsy (with Etsy WordPress plugin).
Test of ГдеСлон affiliate recommendations
ГдеСлон WordPress Affiliate Plugin Installation
We do not distribute ГдеСлон WordPress extension via the WordPress plugin directory or any other third-party directories. So, you may download ГдеСлон plugin from our website and install it manually following instructions from our knowledge base. Or you can do this via our extension manager. Instruction on this you can also find in our knowledge base.
ГдеСлон WordPress Affiliate Plugin Configuration
As usual, to connect and use some third-party service, you should obtain an API key. To do this you should go to the XML API section of ГдеСлон partner network dashboard and copy your API key.
Most of the other configurations are quite clear. They are global all over the website.
You can enable recommendations from a specific list of shops, or you can avoid recommendations from specific shops.
Same way as you can do with shops, you can enable recommendations only from certain categories. Or you may disable product recommendations from categories that you are not interested in.
Sure, you can configure SKUs to be promoted only (not sure why you may want to), and the order of the recommendations – by price, partner benefits of newest first.
If you want to make affiliate URLs look better, you may want to enable a parked domain. this can be done from ГдеСлон partner network dashboard, section "Tools/Parked domains".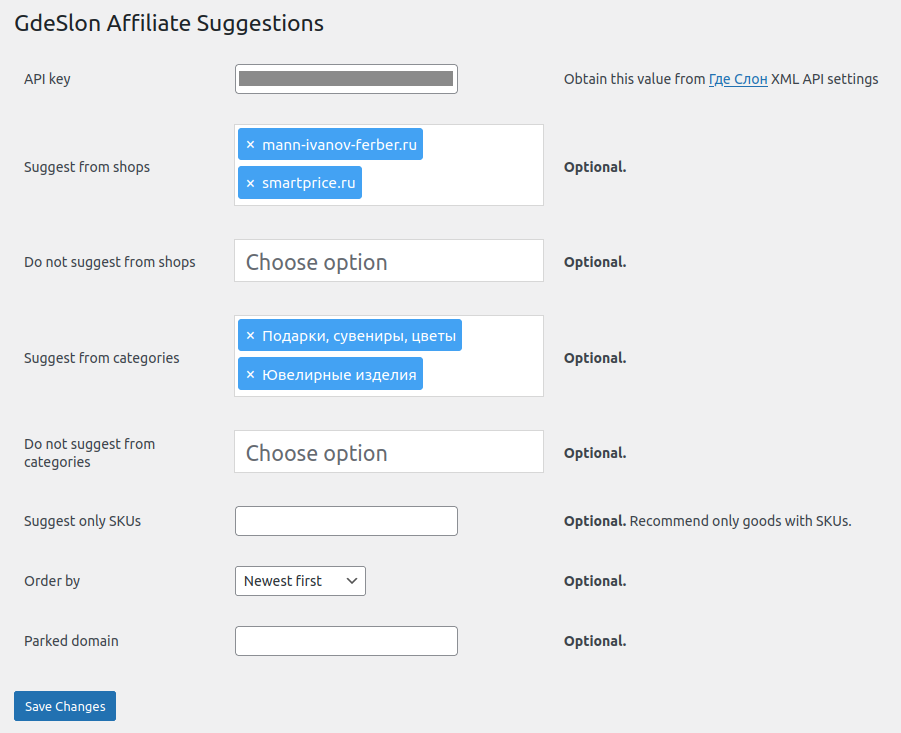 Product Recommendations from ГдеСлон Partner Shops
Usage of the ГдеСлон WordPress plugin is pretty simple and transparent. Suggestion Toolkit provides a standard interface for promotional block configuration.

Key features supported and provided by ГдеСлон partner program WordPress plugin are:
Recommend products only from certain defined shops.
Exclude from recommendations certain shops.
Recommend products of selected categories.
Exclude from recommendations products from selected categories.
Define products by SKUs that should be recommended to website visitors.
Select product recommendation order – by price, partner benefit, or newest first.
Parked domain – allows hiding affiliate code. The affiliate network will identify partners by domain name. This requires registration on a partner dashboard.
Pay attention that the Suggestion Toolkit WordPress plugin provides some additional options for partner links. It allows opening external links in a new tab/window, defining "rel" attribute, and configuring URL rewriting to hide external links. You can find more information about Suggestion Toolkit plugin settings in our Knowledge Base. Additionally, we recommend reading the blog post about affiliate-related settings of the Suggestion Toolkit WordPress plugin.
Partner Program Recommendations Automation
If you have settled on a WordPress blog with a great number of blog posts, or you have some kind of automated script for blog post creation, you may be interested in our Suggestion Toolkit – Automation WordPress plugin. It allows the automatic insertion of post/product/partner product recommendations for a certain number of abstracts from the beginning of the post, or right after the post. Alternatively, it may show recommendations once the post is scrolled down for a defined percentage. You can read more about automated recommendations of partner products & services in our knowledge base.
Event and Holyday-related Affiliate Products Recommendations
It is common practice to pay more attention to the promotion of certain products & services during the holiday time. The same thing works for season-related products. For these cases, we can recommend Suggestion Toolkit – Events/Campaigns WordPress plugin. You may read how to configure partner products & service campaigns in our knowledge base.
Conclusion
We hope that this toolkit will help you build your own traffic flow and improve your affiliate revenue. If you have any questions or comments, please feel free to contact us.
Suggestion Toolkit – ГдеСлон Affiliate Network WordPress Plugin