Description
This plugin allows saving a lot of time automating the placement of related recommendations on the post pages. One can select the number of locations where to display recommendations (see "Key Features" section) – inline, after the post, popup. It also allows configuring the content, layout and styles of recommendations.
This plugin extends the Suggestion Toolkit WordPress plugin, so requires it for correct work.
Suggestion Blocks Configuration
The main idea implemented in this plugin is the ability to configure multiple suggestion blocks for different post types, with different configurations. And even more,  these recommendations can be enabled/disabled based on keywords present in post tags. This also can be defined in block configuration.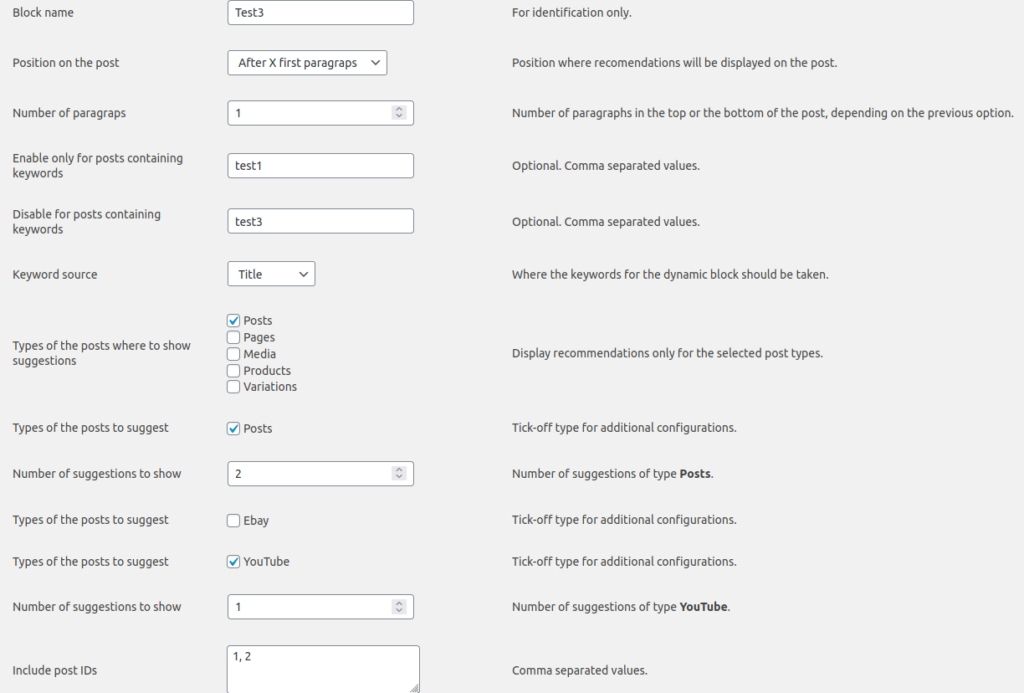 Sure, all standard suggestion block configurations are available for automated recommendation blocks. As one can notice on a screenshot, recommendation types are not limited to standard WordPress post types or Woocommerce products. Other recommendation sources can be added via extensions like eBay stores and partner program plugin or YouTube video recommendations plugin.
Tag Management
Very often we met the situation when we have certain tags assigned to blog posts, but we need to display suggestions and affiliate products by other keywords. As far as these keywords are good for the SEO and describe the content, but it is better to display recommendations by some other keywords. There can be different reasons for that. For example, you may want to redirect traffic to related posts or products or promote the different affiliate programs. This can be done very fast with the Tag Management of the Suggestion Toolkit – Automation WordPress plugin.
Key Features
* Automatically added suggestions to the posts of a defined type.
* Automatically generated suggestions keyword source configuration.
* Inline suggestions in the post body after a certain number of paragraphs.
* Inline suggestions in the post body certain number of paragraphs before post end.
* Suggestions after the posts of certain types.
* Popup suggestions after a certain % of scroll-down.
* Suggestion types are configurable – posts, products, downloads, same as types added by extensions (for example affiliate product suggestions).
* Layout & style can be selected – recommendations with thumbnails, text-only recommendations, horizontal or vertical layouts.
* Configure keyword source to build the recommendation blocks.
Suggestion Toolkit – Automation